A translation guide for all the Spanish words and phrases in Puss in Boots: The Last Wish makes it an even richer film experience. The sequel to Dreamwork's Puss in Boots finds the fearless feline hero (Antonio Banderas) facing his own mortality until a chance encounter with a special map points him in the direction of the Wishing Star. If he could get his paws on that mystical artifact, then he would be able to restore all of his nine lives and never have to fear Death, who has been dogging his every step after his last heroic feat nearly used up his last life.
Unfortunately for Puss, every fairytale creature in the kingdom wants to find the Wishing Star too, making the journey even more perilous. With the help of Kitty Softpaws (Salma Hayek) and a new pal named Perrito (Harvey Guillén), Puss is able to stay one step ahead of Goldilocks (Florence Pugh) and the Three Bears, as well as Big Jack Horner (John Mulaney) who all want the Wishing Star for their own ends. The Spanish vocabulary that fills the epic quest not only makes the most of Puss in Boots: The Last Wish's voice cast, but it also provides words and phrases to make everyday life as exciting and hilarious as Puss's adventures!
15
Gazpacho
One of the themes in Puss in Boots: The Last Wish is coming to terms with mortality and confronting death, which Puss refuses to do from the very beginning because he believes he's invincible. Even after being treated for his injuries and told he only has one life left, he asks the doctor if he knows a good place to get some gazpacho, which is a vegetable soup that is served cold. It's widely enjoyed in Spain and Portugal during those countries' hot summers because of how refreshing it is, which indicates how flippant Puss's priorities are.
14
Perrito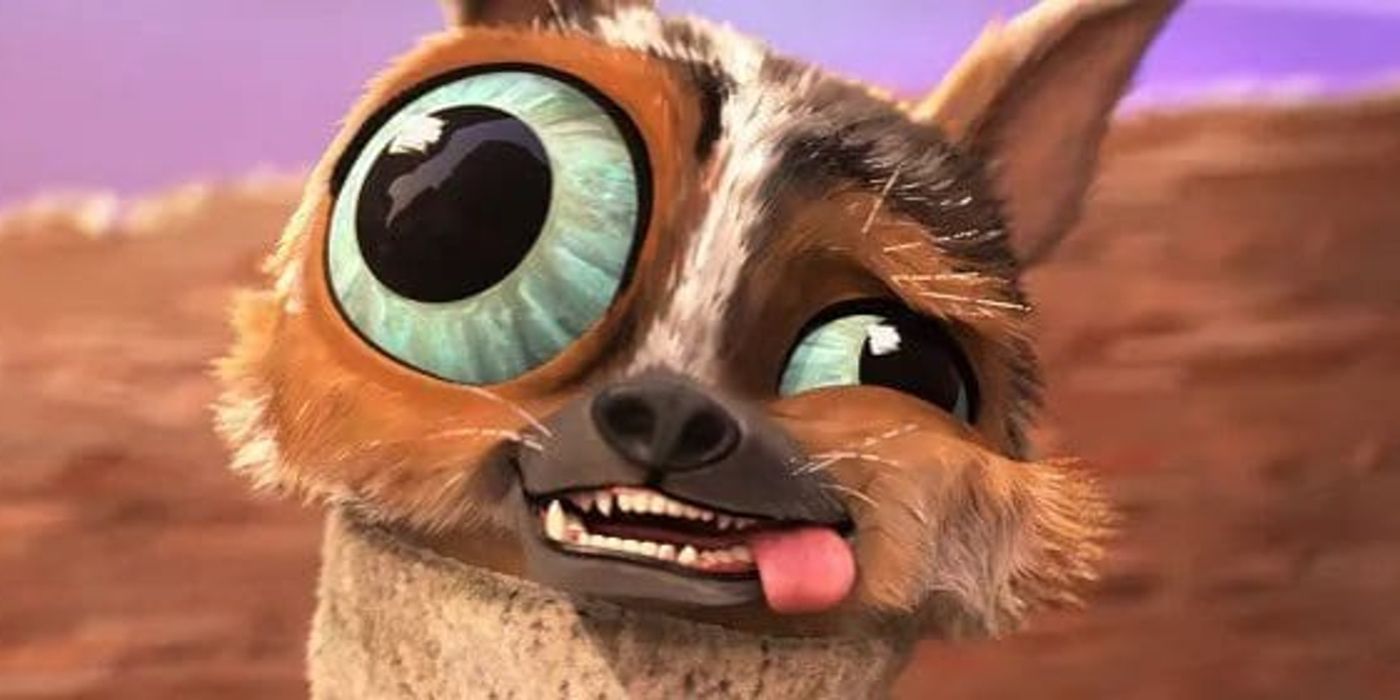 Perrito, which means "little dog" in Spanish, is the name bestowed upon the tiny canine friend Puss makes when he decides to spend his last life as a house cat. At this point, Puss has given up on living an exciting life out of fear, but Perrito shows him how to appreciate the moment, and even soothes him in times of great anxiety so that he can conquer his feelings of inadequacy. Perrito might be a little dog, but he plays a huge part in Puss successfully finding the Wishing Star.
13
Mi Casa Es Su Casa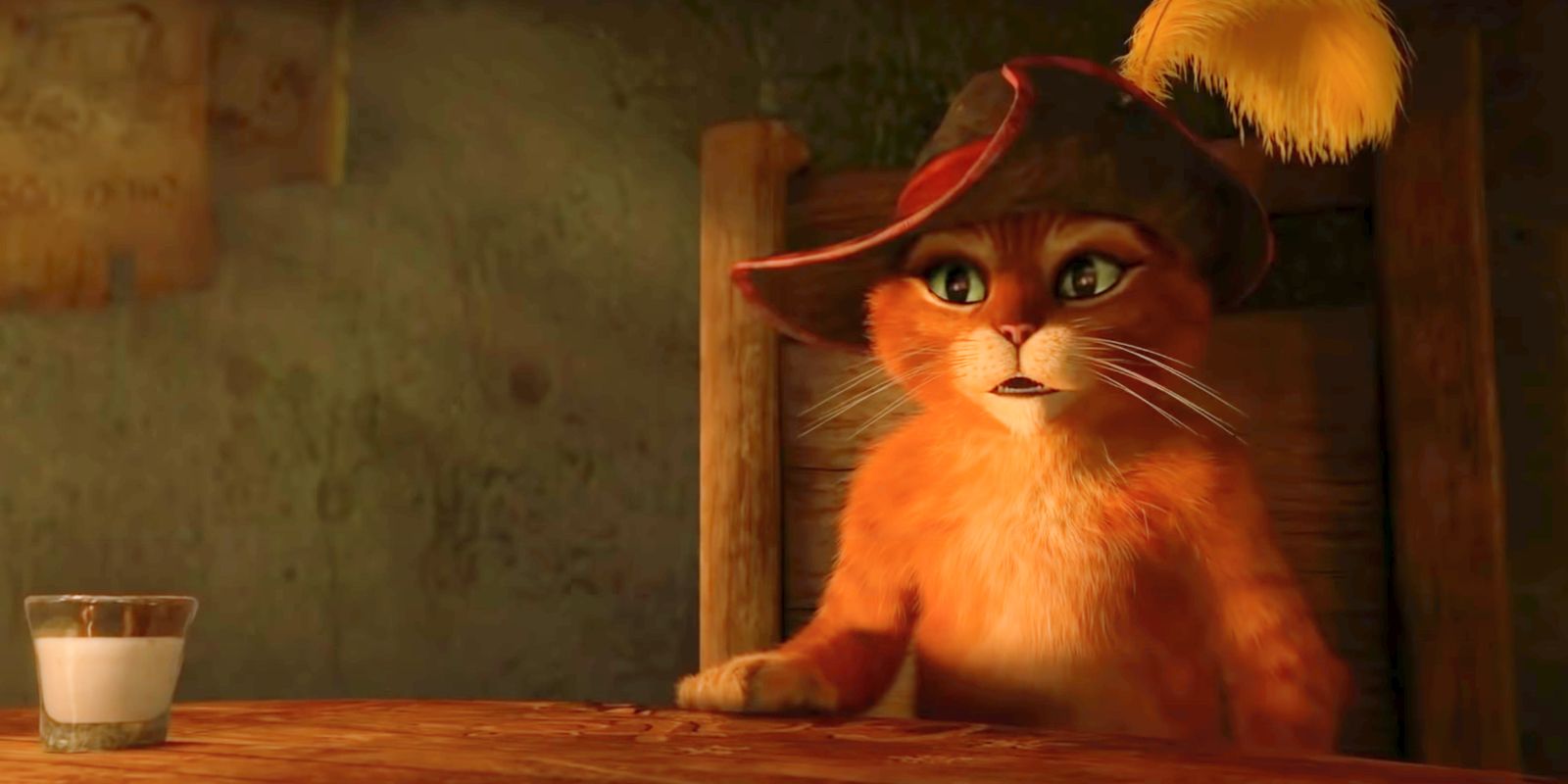 Mi casa es su casa is a common phrase in Spanish that translates to "my house is your house," and is meant to make a friend or visitor feel welcome even in unfamiliar surroundings. Puss turns the phrase on its head in Puss in Boots 2 when he takes over the Governor's mansion and says the phrase ironically to its owner. Displeased, the Governor loudly proclaims, "No! Su casa es mi casa!" which means, "No! Your house is my house!" At this point, Puss has to make a speedy getaway.
12
Lobo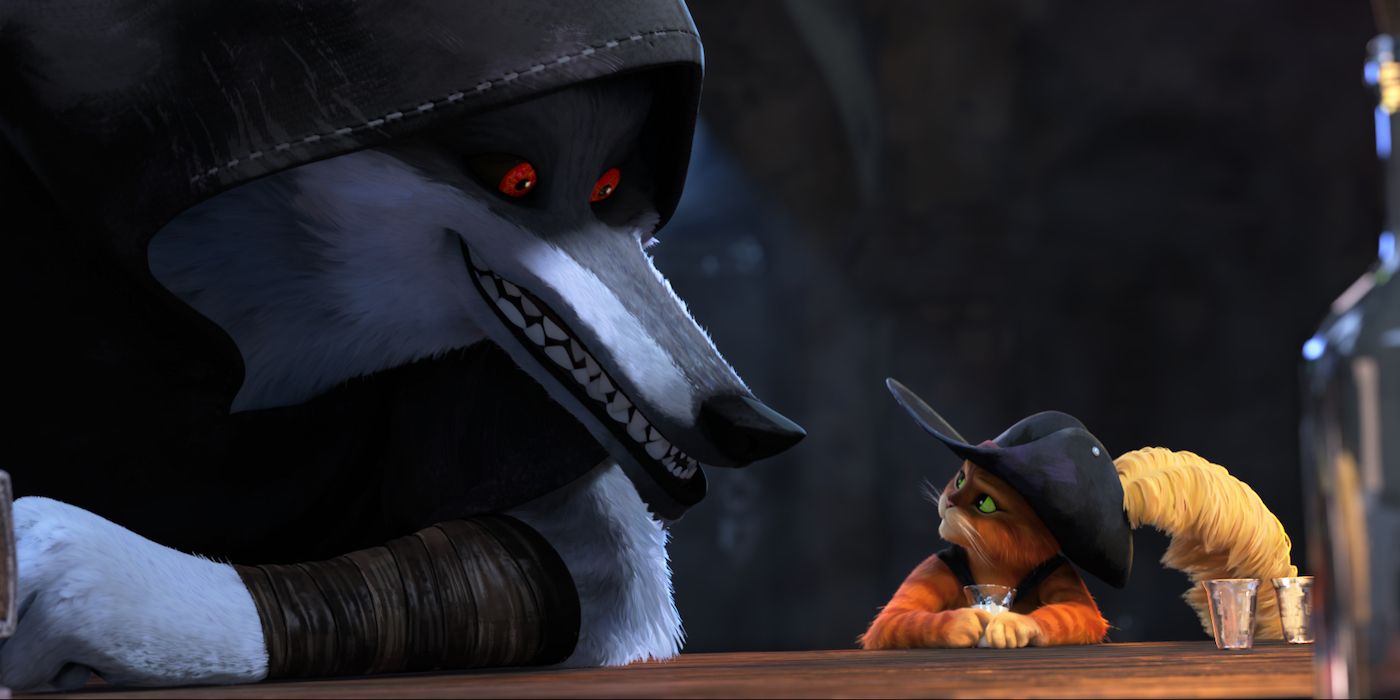 Puss in Boots 2 is the best Shrek film in a long time thanks in no small part to its incredibly terrifying villain. Lobo (Wagner Moura) translates into English as "wolf" but this character is a far cry from the Big Bad Wolf chasing Goldilocks and the Three Bears in the Shrek movies. This wolf wears black robes, carries twin scythes, and represents Death, which stalks Puss on his journey to find the Wishing Star and adds a sense of existential dread to every scene he's in.
11
Gatito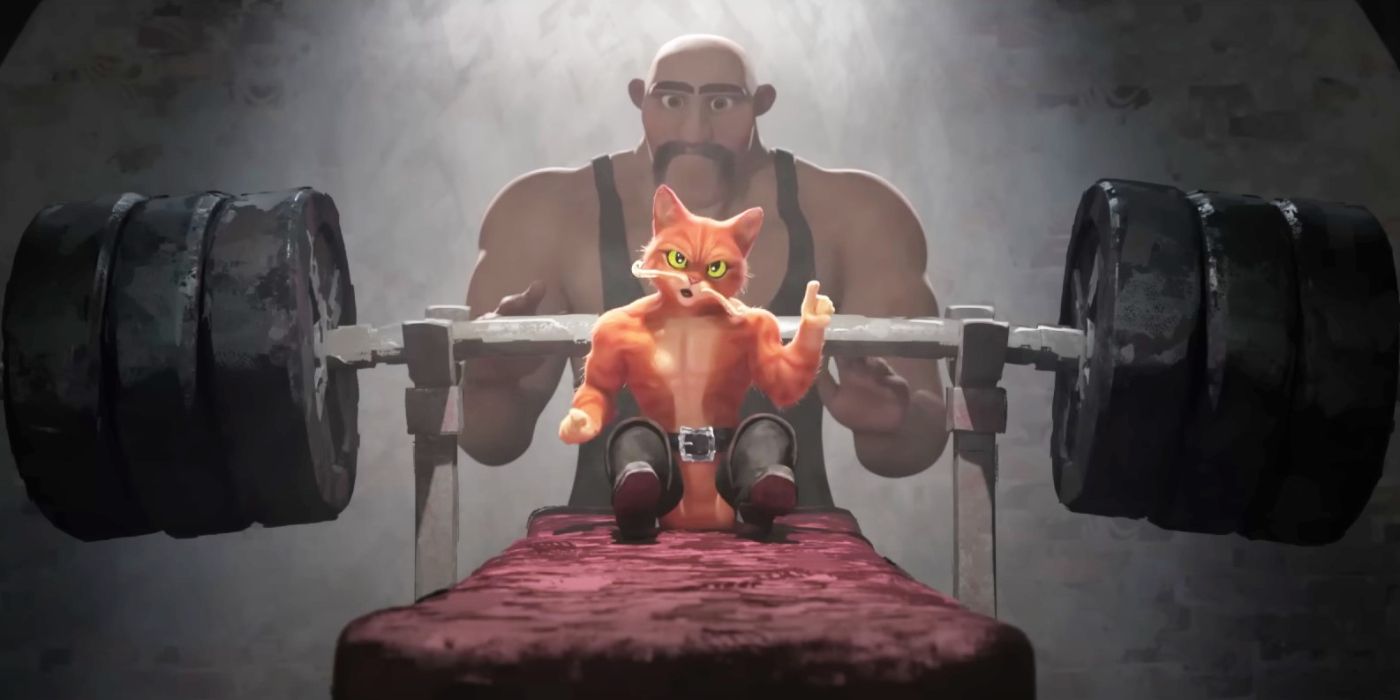 Gatito is the word in Spanish for "little cat" and is used throughout Puss in Boots: The Last Wish to make fun of Puss. Where once he lifted weights to show his incredible strength, at his lowest point, Puss doesn't even protest the derogatory usage of the term because he feels like the fight has left him. Perrito and Kitty Softpaws help him regain his confidence and show that even little cats can be dangerous foes.
10
¡Holy Frijoles!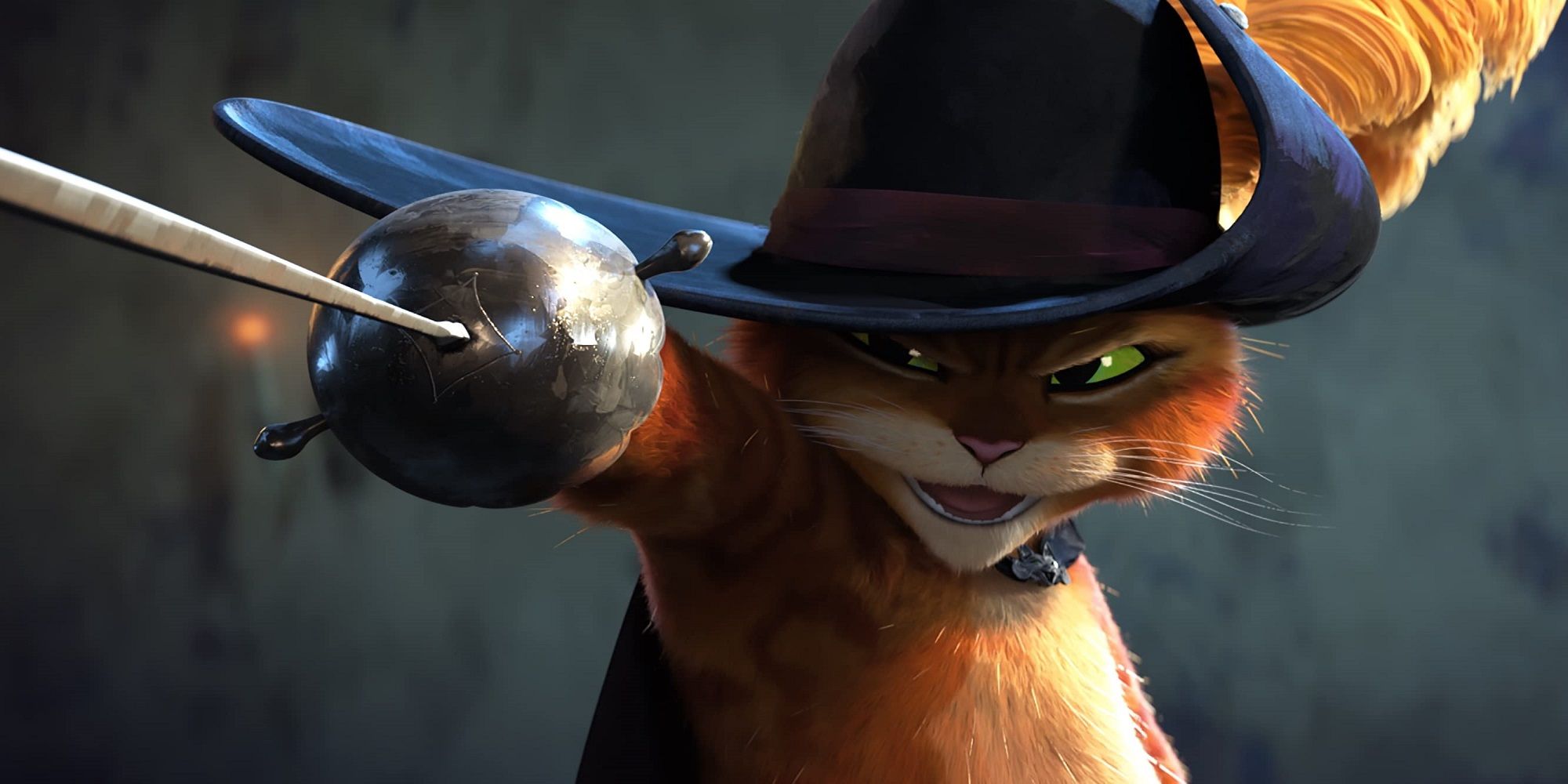 Puss uses ¡Holy frijoles! the moment a spire nearly connects with his exposed lower half while trying to escape Big Jack Horner's castle, and the Spanish phrase translated into English literally means, "Holy beans!" Not only is it fun to say, but it's also a very inoffensive way to swear in a family-friendly film. To top it off, it's the name of a track from the Puss in Boots: The Last Wish original motion picture soundtrack by Heitor Pereira.
9
¿Te Gustan Las Siestas?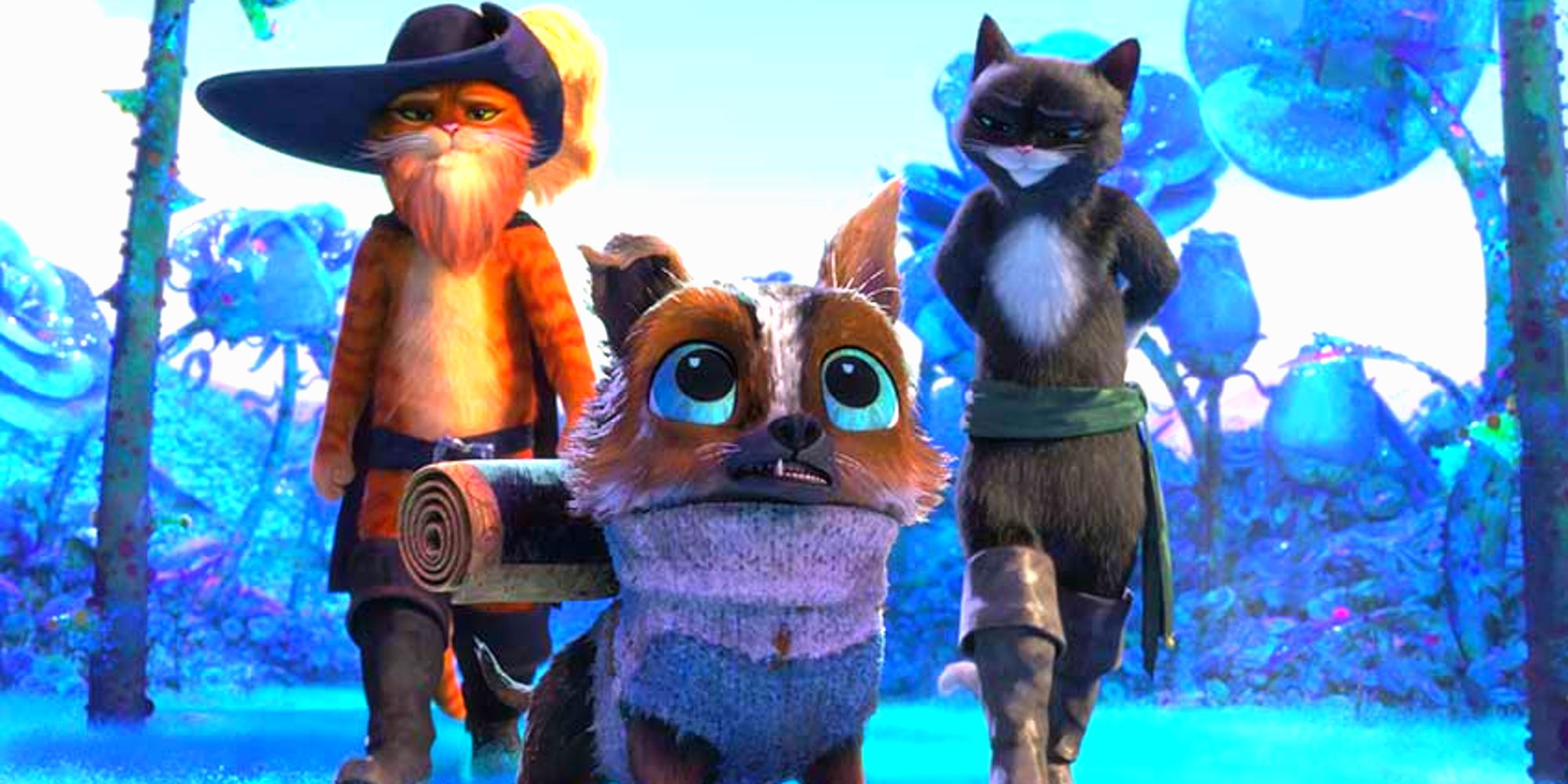 When Perrito first meets Puss, Puss briskly tells him, "No hablo inglés," which translated from Spanish means "I don't speak English." This is just fine with Perrito because he speaks Spanish, so he begins barraging Puss with questions in his native tongue like "¿De dónde eres?" ("Where are you from?") and "¿Te gustan las siestas?" or "Do you like naps?" The last Spanish phrase is one that most dogs and cats have in common (and most humans too!)
8
¿Por Qué Diablos Fui A Jugar Con Mi Comida?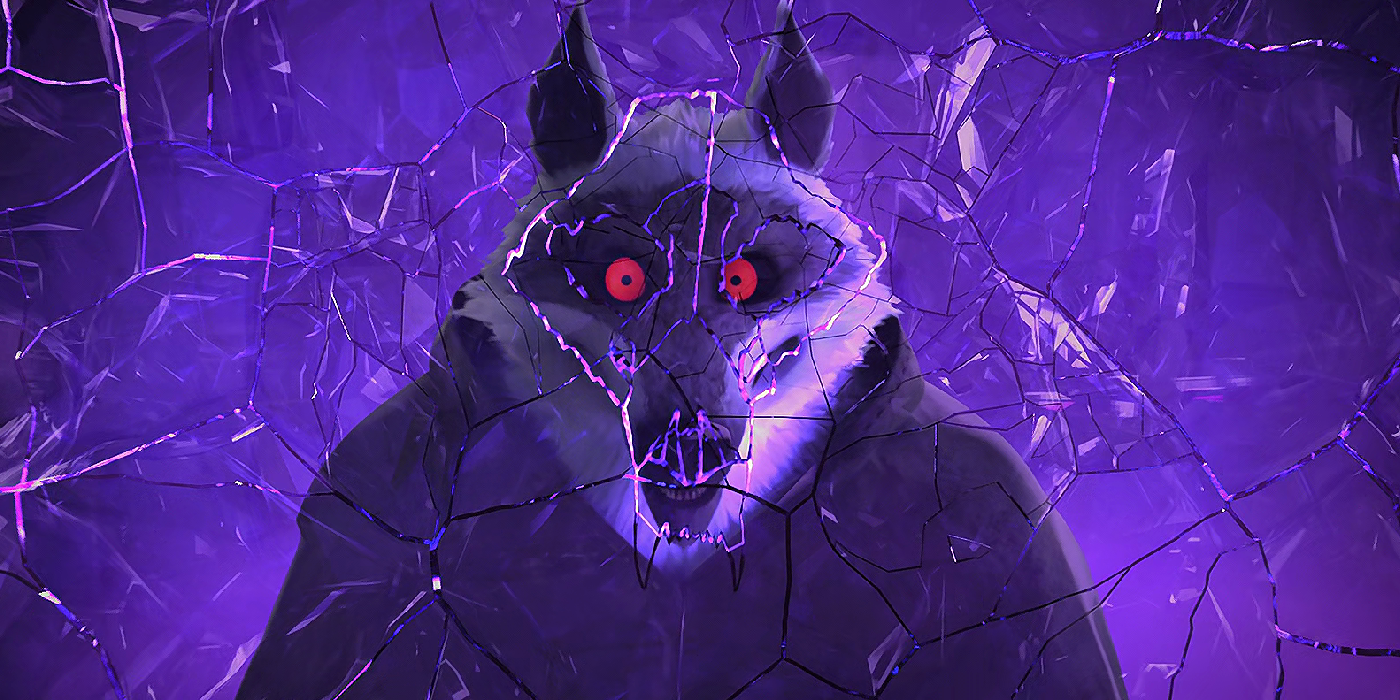 Some fans have wondered what Death mutters to himself after he surrenders to Puss at the end of Puss in Boots 2. The Spanish phrase is "¿Por qué diablos fui a jugar con mi comida?" which translates into English as, "Why the hell do I play with my food?" This works on two levels; because Death is sustained in a way by the souls he claims, and because his corporeal avatar is a wolf, a predator that would eat a cat given the chance.
7
¡Hasta La Muerte!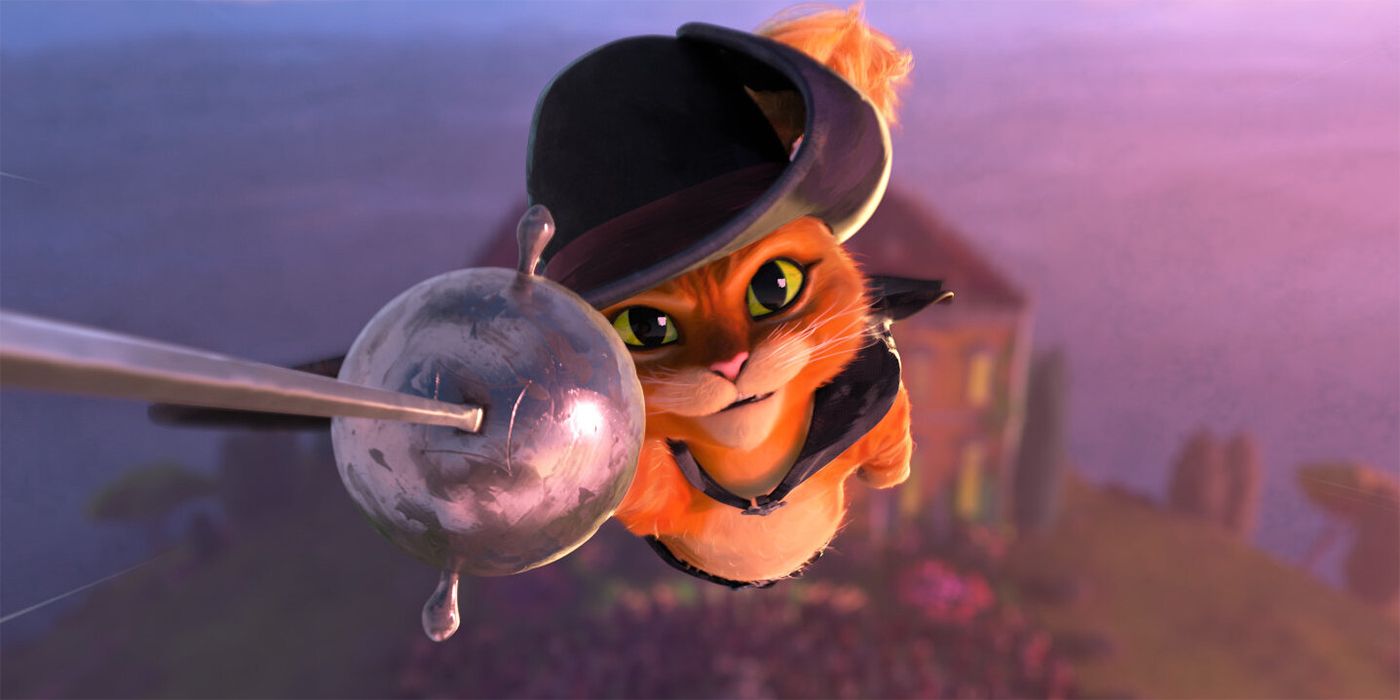 After their final encounter at the end of Puss in Boots: The Last Wish, Death realizes that Puss respects the end of life and decides to spare him. He tells Puss to enjoy his last life and reminds him that they will meet again when it's his time to pass away. Puss accepts Death's decree with, "¡Hasta la muerte!" which means, "Until death!" and vows to accept whatever fate has in store for him when it's finally his time to die.
6
Leche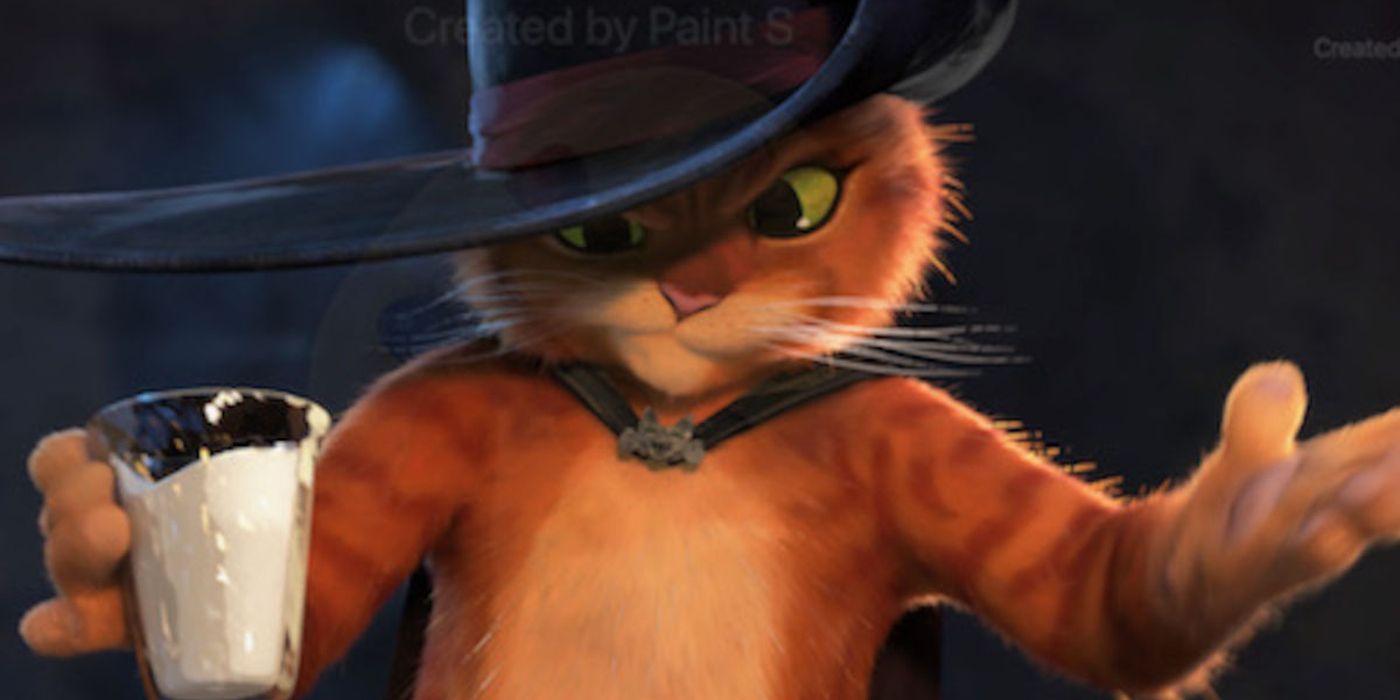 It wouldn't be an adventure about Puss in Boots if it didn't include leche, the Spanish word for "milk." Puss is seen enjoying a cold cup of leche several times in the movie, particularly after a victory or when he's trying to drown his sorrows in the bar when he's approached by Death. Gatos like Puss also enjoy crema which is the Spanish word for "cream."
5
¡Suéltalo!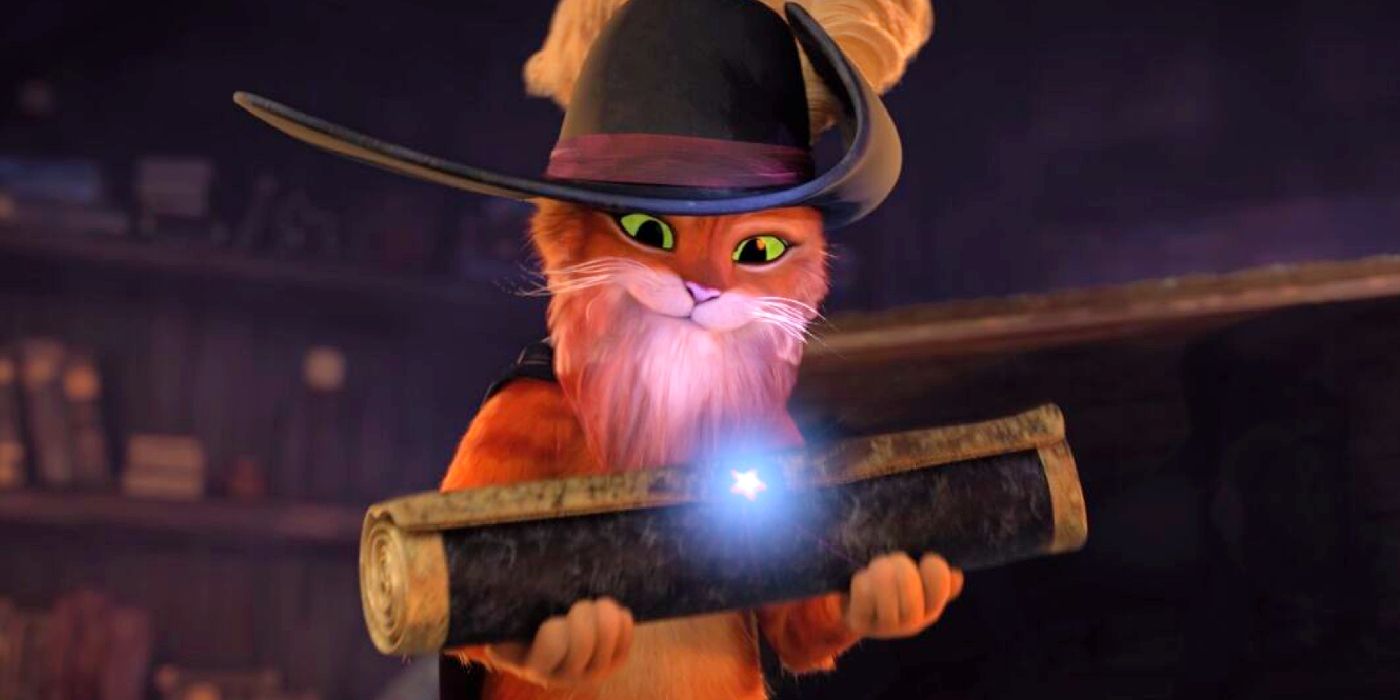 "¡Suéltalo!" is a Spanish phrase that's used to mean a couple of things in Puss in Boots 2. It can sometimes be used to say, "Let it go!" meaning the map to the Wishing Star, and other times, "Let them go!" meaning Kitty Softpaws and Perrito. There are many words in Spanish that are not only based on how they're conjugated but the context in which they're applied.
4
¡Ay, Qué Miedo!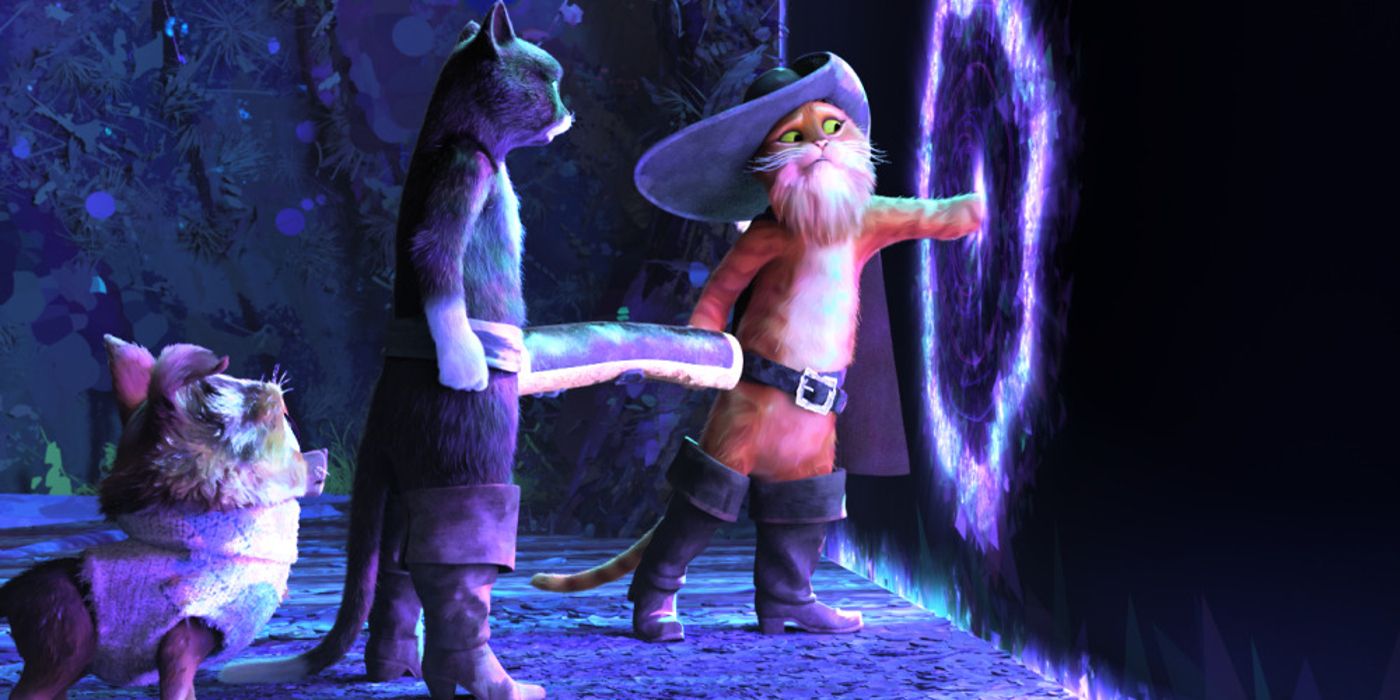 For a family-friendly movie, Puss in Boots: The Last Wish is surprisingly dark with its humor at times. The Spanish phrase, "¡Ay, qué miedo!" gets shouted by Kitty Softpaws when Puss sticks his paw through a portal that will lead to the Wishing Star, and it disappears up to his wrist. Translated into English the words mean, "Ah, how scary!" Since Puss and Softpaws don't trust the portal, they enlist Perrito to go through it first, just to be sure.
3
¡Los Voy Hacer A Todos Alfombras De Baño!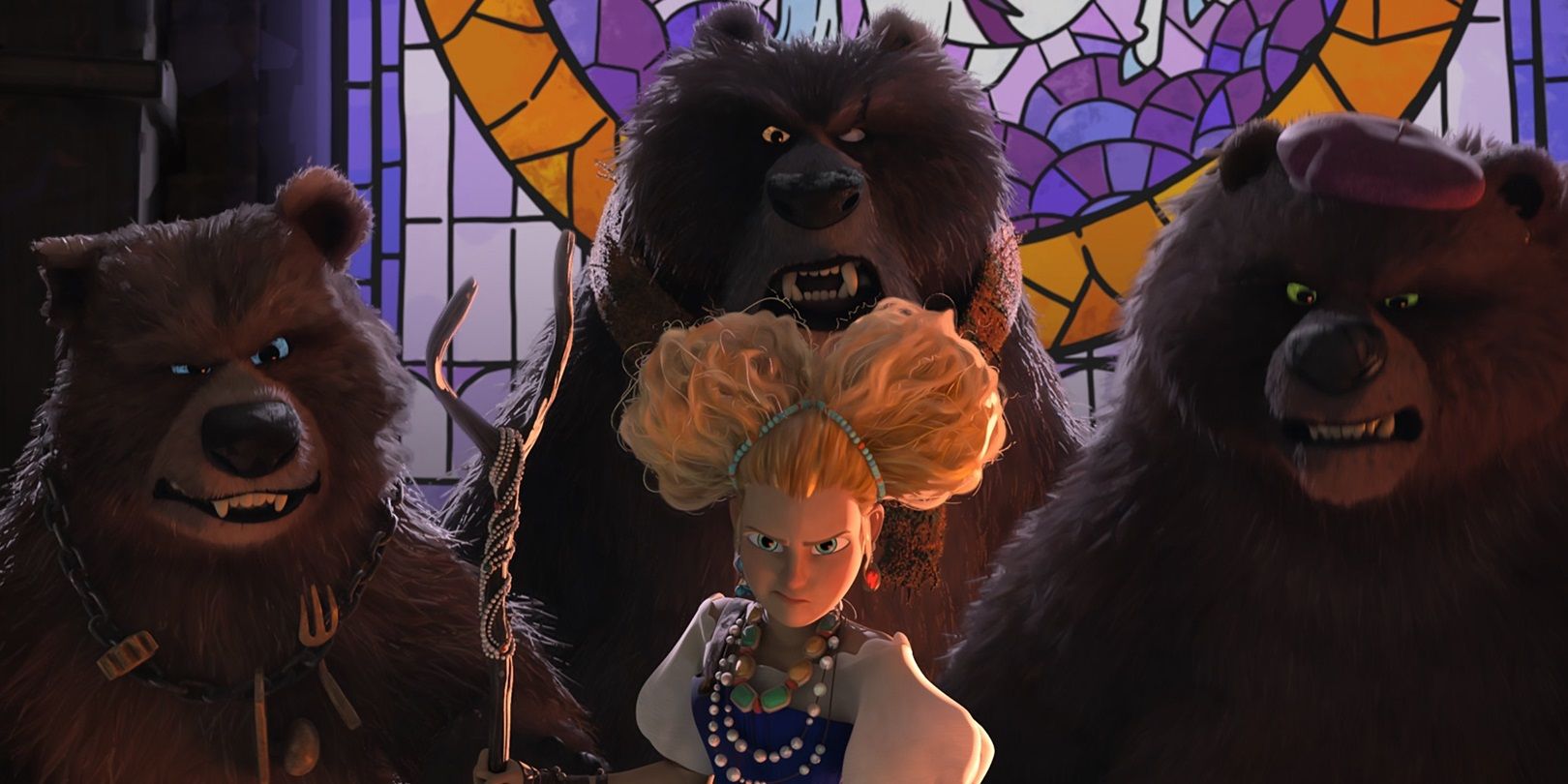 Goldilocks and the Three Bears show up repeatedly throughout the movie to thwart Puss, Kitty Softpaws, and Perrito. At one point, Softpaws even gets taken hostage and the Three Bears get their paws on the map to the Wishing Star, which they hope will please Goldilocks and encourage her to use her wish in a way that benefits all of them. Softpaws, never one to hold back yells, "!Los voy hacer a todos alfombras de baño!" which translates to, "I'm going to make you all bath mats!"
2
¿Adónde Fueron Ese Idiota Y Su Perro?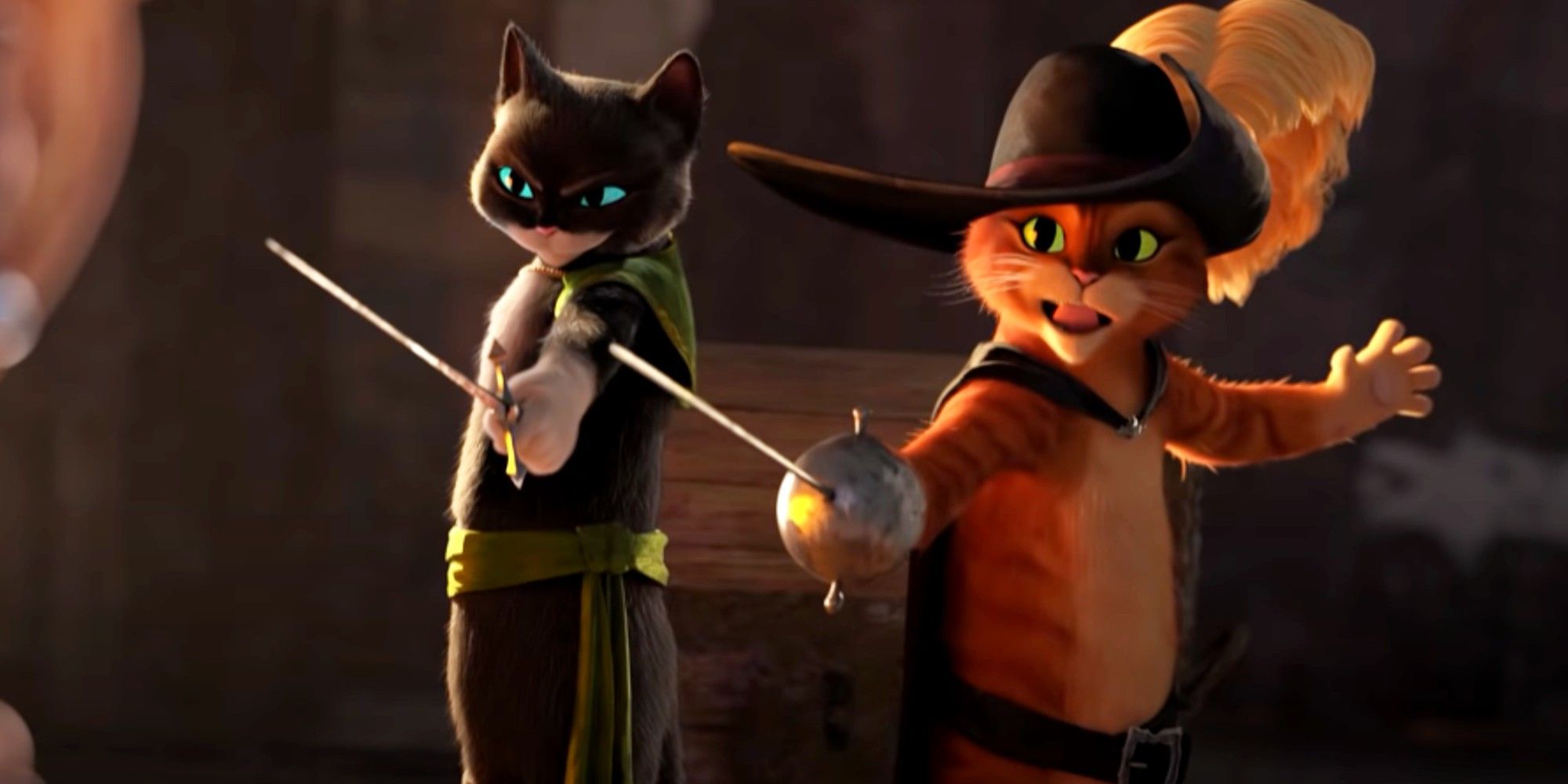 Kitty Softpaws doesn't want anything to do with Puss in Boots after he abandoned her just before their wedding, but he needs her help in order to find the Wishing Star. Before she begrudgingly decides to lend him a paw, Softpaws searches for Puss and Perrito after being separated and asks, "¿Adónde fueron ese idiota y su perro?" which means, "Where did that idiot and his dog go?" Puss in Boots 2 subverted a terrible trope by allowing Puss to explain himself to his former lover without relying on miscommunication to add to the drama.
1
¡Fiesta!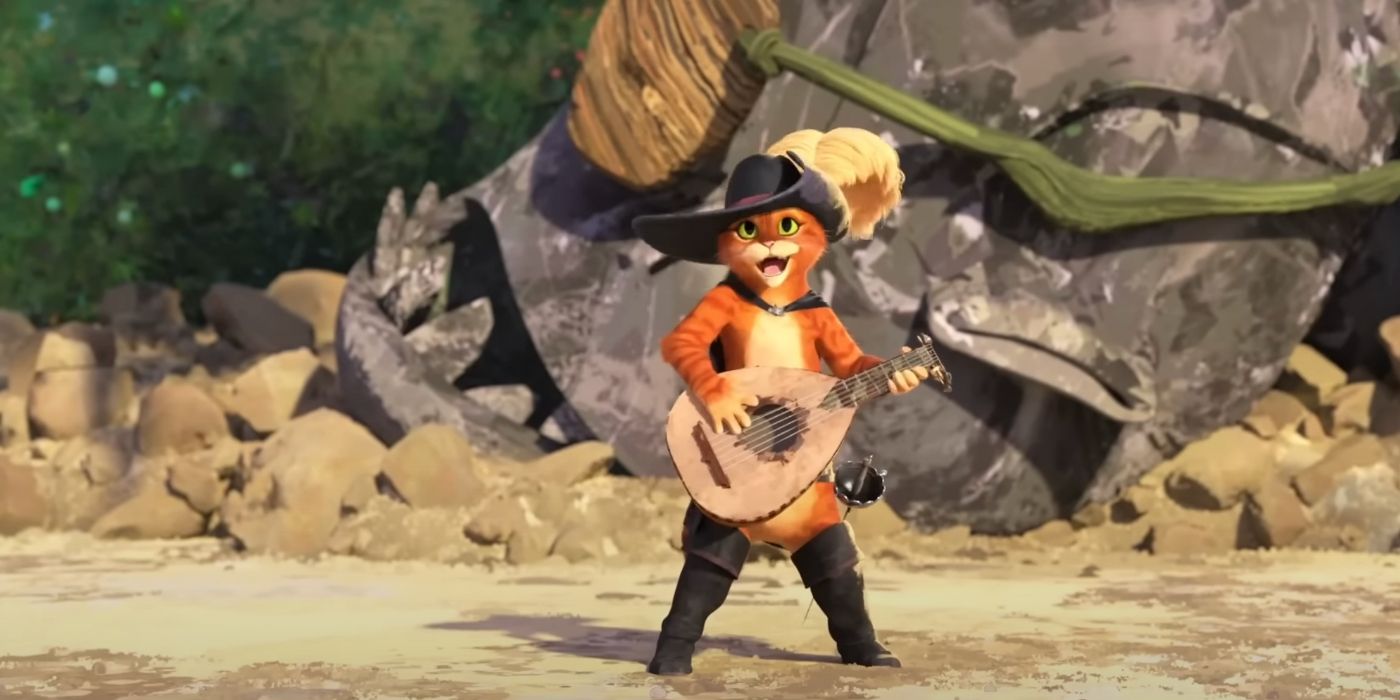 "¡Fiesta!" is the Spanish word for "Party!" and it's an appropriate way to both begin and end Puss in Boots: The Last Wish. The movie opens with Puss enjoying a rowdy affair in his honor at the Governor's mansion, and he duplicates the festive atmosphere at the end once he's been labeled a vigilante. But that's just the way Puss likes it – living on the edge and taking one day at a time while he sails with Kitty Softpaws and Perrito to the land of Far, Far Away and sets up a possible story for Puss in Boots 3.